Ščurek Wines
This is a part of an assignment for a Packaging Design course I'm taking at the faculty. The idea was to take an existing packaging and redesign it in a way to make it more modern, different and fresh while trying to avoid the cliches that rule the particular product packaging.
I was working on this assignment with my schoolmate Anja Gantar. The first thing we did was to go to the local stores and take pictures of the wine shelves. This gave us the insight into the current state of win bottle design. We found out that the labels were mostly square in shape with serif fonts and an emphasis on the wine symbolic (grapes, wine cellar etc.). Another thing we noticed was the use of heat transfer foils for metal effects (gold, silver, copper) and the recognizable wine bottle shape.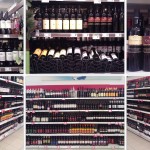 We decided to redesign the bottle label of the Slovene winemaker family Ščurek (eng. Cocroach). The name is not really that inspiring but we decided that someone has to dare to do the obvious step. Put a cockroach on the label. The current label uses a cricket which is particularly annoying since the name says cockroach. The nonresistance is that much more obvious since they use a name of one and an image of another bug. Bad move. So let's put a cockroach on an see what happens.
We made a modern label that would be printed on clear foil. No gold, no silver, no serifs, no square (visually, technically the clear label is in fact still square), no wine symbolic. We decided that is't past time one winemaker in Slovenia started marketing wines to younger generations and our labels are just the thing. And if you doubt that this can be achieved take a glance at Yellowtail.